Authors: 
 Frieda Pickett, 
JoAnn R Gurenlian
Description: 
Prepare your students to identify risk factors and potential emergencies before they occur with Preventing Medical Emergencies, 3e.  Organized to follow the most recent American Dental Association Health History form, the book includes easy-to-find follow-up questions for all conditions, along with clinically relevant treatment plan modifications and strategies for preventing and managing specific emergencies.
Organized for effective use in a 15-week semester, the Third Edition features the latest professional guidelines, new information on clinical management of patients with special needs, all-new teaching resources, and more.
Instructor Resources:
A NEW chapter-by-chapter PowerPoint Presentation speeds lecture preparation.
Student Resources:
Summary Case Studies Online combine and summarize topics in chapters 1-4; 5-8; 9-10; and 11-13. Each summary case study presents patients with multiple conditions to give students additional practice in assessing and managing potential risks.
Interactive Quiz Bank for students to test their knowledge on key concepts covered in each chapter.
Videos illustrating the most common medical emergencies in the dental setting.
Image Bank gives students online access to the book's images for study on the go
ISBN: 978- 1 -45 1 1 -94 1 8-0
Published Date: 2015
Page Count: 252  , File Size 14 Mb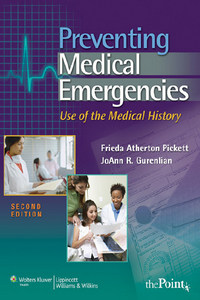 Preventing Medical Emergencies: Use of the Medical History, 2nd edition
ISBN: 978-1-58255-840-0
Published Date: 2010
Page Count: 258  , File Size 3 Mb
Free Download Link